Vitkauskas: It's time to punish for intentional bankruptcy and dishonest debtors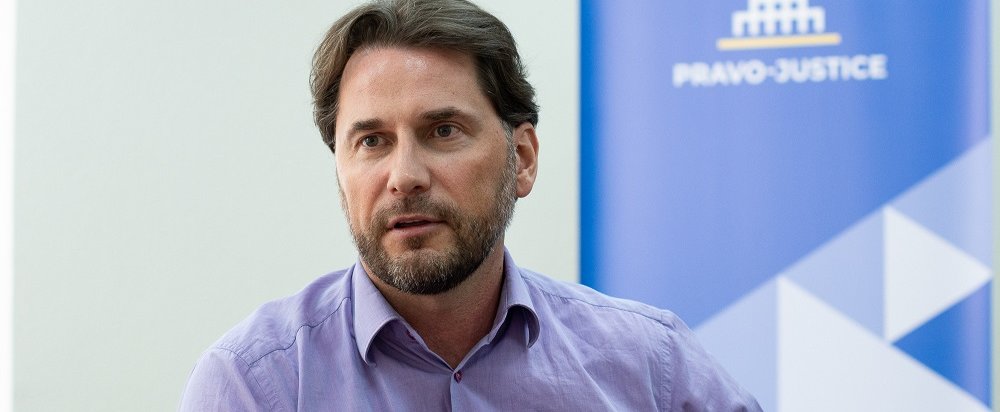 European experts hope that the newly elected parliament will start real reforms
What reforms moved forward, what was still not accomplished and what are the expectations of experts form the new Parliament – this is what Mr. Dovydas Vitkauskas, Team Leader of EU Pravo-Justice Project told in the interview to LIGA.net in the framework of joint project with Internews-Ukraine.
- What reforms would you assess as positive?
One of the reforms implemented in the framework of our EU-funded project was establishing institute of private enforcement officers in Ukraine. There are already tangible results of privatizing enforcement service: private enforcement officers are more than 3 times more effective than state ones, given both the number of cases enforced and the amounts collected. However, before the beginning of this year, the Ministry of Justice of Ukraine and the courts did not allow private enforcement officers to work, punished them for their effectiveness, for enforcing court decisions, for defending the rule of law.
Recently, the Ministry of Justice has changed its approach and admits more people into the profession, trying to introduce new disciplinary practice, and these steps are very much encouraged. As the best European practices proved and which are gradually being applied in Ukraine, private enforcement officers make the judiciary itself effective. It is necessary that the courts first understand that without enforcement, their decisions are useless papers that can be immediately thrown out.
Reforms in which functions of the state were transferred to private professions worked better than those where the state left these functions for itself. There were and still are difficulties in privatization of various types of services, but overall, privatization of various justice services is for sure the most reasonable step in modern society. Therefore, we want it to continue with respect to enforcement systems, notaries, bankruptcy management.
- What was impossible to implement and why?
It is slower as to creating strong institutions with values. It is difficult to achieve a sustainable result here. We need to change people, we need to educate those who stay, and test them, but most importantly, we need to create common values that connect everyone. Leaders must bring them, and the values must stay after leaders leave. However, this was not the case either in the judiciary or in most other sectors.
A person comes to work somewhere and does not really understand what values this institution professes, what is the result it helps to achieve for the society. For example, the Prosecutor General's Office - what values of the society it saves and brings to the society, and what should be the development of this institution, what is the best way to translate these values into life through quality management systems, standards and performance indicators.
So far, we are dealing with either a weak leader or a strong leader who brings something with himself, but when he leaves, all his values leave. There are no consistent political messages from above that would dictate these institutional values in Ukraine.
- What reforms are underway right now? What will this change for Ukrainians next year?
Today, we, European experts of the Pravo-Justice project, are working to improve the protection of property rights. In Ukraine, there is a lot of talk about corruption, but there is not enough talk about the fact that society has a big problem with responsibility regarding debt obligations. People take loans, companies create debt, quite large amounts of money are given to citizens even without risk assessment by banks.
There is a general sense of irresponsibility both as to consumer loans to ordinary people, mortgages, and huge debts of enterprises. There is a whole system of "dropping debts" when creditors cannot get even a small part of the amount that they are owed. And here it is the fault of the state just like that of private individuals. The state does not pay its own debt, even when determined by the court.
So what responsibility can we demand from society if the state does not treat debt obligations seriously? There is a lot of talk about anti-corruption and the rule of law, but there is no point in these discussions until we start with more elementary steps to develop decency and responsibility in society.
Now, if you are a dishonest debtor in Ukraine, it's very easy for you. You can litigate for a long time and cheaply, bring the matter to several instances, including the Supreme Court, in totally commonplace and insignificant disputes. Even if you lose the case, you can continue to challenge it in the courts or through the Ministry of Justice, preventing the enforcement officer from working. And at this time you can successfully hide all your assets, because Ukraine is still lacking accessible, reliable and safe electronic systems of asset registers, especially since international cooperation is not developed. Therefore, if you are a dishonest debtor, in Ukraine you win, and if you are a decent person, you lose.
To make everyone, including the state, treat their own debts more seriously, and reforms of enforcing judgements and that of bankruptcy system are aimed at stopping the scheme of creating "one-day firms" and reforming the enforcement of court decisions. New bankruptcy legislation will come into force within a few months. In Ukraine, new mechanisms that have long been operating in Europe must be launched.
In particular, there is civil and administrative responsibility of the real owner of the beneficiary company for a deliberately created debt that he was not going to pay back. Another unusual lever for Ukrainians is reputation risk. Having ruined the reputation through bankruptcy, a person does not have the opportunity to take out a loan for business development. Such a system of checks through restricting access to loan works in Europe even without formal prohibitions on opening a new business after bankruptcy. This protects the interests of future partners, workers and customers of such companies.
In the event of bankruptcy proceedings, the property of the company is passed to the management of persons determined by the state – insolvency practitioners who must sell the assets of the company to pay off creditors. It is insolvency practitioners in Ukraine who often have backroom deals with company owners to hide assets from creditors, and then share the profits. The reform will create a professional association of insolvency practitioners who will be not only independent but also accountable through levers of control by the creditors and the Ministry of Justice.
In order to prevent situations when creditors "hang in the air", the state, insolvency practitioners, formal owners of the company and beneficiaries must share responsibility.
Both bankruptcy reform and reform of enforcement system are vital for raising integrity and discipline in society. Without them, there will be no foundation for protecting property rights and building the rule of law. Mature legal systems are able to reasonably restrict property rights. The reform in the confiscation system, which in the European manner should become a tool to prevent financial and corruption crimes, is promising. In Soviet times, confiscation was a form of punishment. In Europe, this approach is long gone. There it is a preventive measure to deal with assets obtained by criminal means. Confiscation is also a tool for returning property to victims. In such a way the society denudates the motive and cause of most crimes. To this end, a new leverage is being created in Ukraine - civil confiscation, when no one proves a person's guilt, but suspicions about the sources of his assets are sufficient for society to take this property back if the owner has not shown other, legal, sources of its acquisition.
- What is your assessment of the actions of the previous government regarding the reforms that you intend to implement? And what do you expect from the new president and the newly elected Parliament?
As I said, before the beginning of this year, private enforcement officers were not allowed to work. They were punished precisely for working well. The Ministry of Justice imputed to private enforcement officers allegedly disciplinary violations, which even Ukrainian courts rendered unlawful.
Disciplinary responsibility in the former Soviet Union is often still an effective lever for punishing people for the initiative, for rationality, for achieving results, for active engagement. This has to be changed. Speaking about the new government, we will look at real policy the new Parliament will have, for example. It would be very good if the mandate of private and state enforcement officers were made equal, if the conditions were created for creditors and decent people to get a worthy response from the state regarding debt obligations, if the new government did not play political games in order to create privileges for this or that debtor – we would certainly appreciate these actions positively.
If with the new government irresponsibility and lack of competence in the management of state-owned enterprises does not flourish as it was before, if lawmakers do not cover up for debtors and bankrupts through different moratoriums, if in Ukraine finally there is full-fledged private property for land that does not exist yet – these specific steps will show a more serious approach of the authorities to the rule of law, to improving business climate and social and economic well-being of society.
If the excessive role of the state power remains, which over the previous decades has shown that it cannot guarantee effective, transparent and independent service to society, if there is still hindering enforcement of court decisions, if through lawsuits, law enforcement racketeering and disciplinary procedures creditors and honest business continue to be discriminated against, then we will see that the reform failed. But for now, those messages that come from the Presidential Office, the Parliament, the Ministry of Justice suggest that these obligations to society to protect property rights are taken seriously.
text by Ms. Oksana Viter, photo by Mr. Andrii Kuzmin
Special project of LIGA.net together with EU Pravo-Justice project and Internews-Ukraine