ХІ Judicial Forum Final Session dedicated to peculiarities of enforcing court decisions and considering certain categories of cases during martial law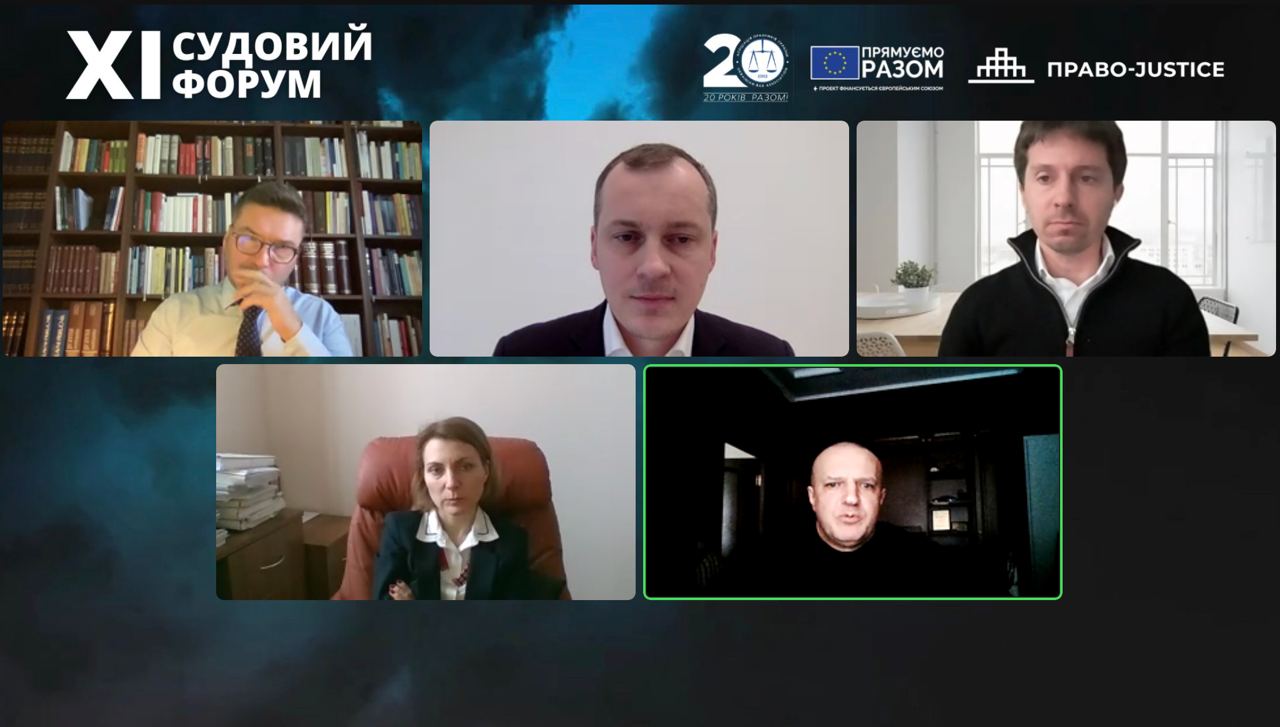 The final session of XI Annual Judicial Forum was dedicated to the peculiarities of considering certain categories of cases during martial law.
Damir Site, EU Project Pravo-Justice international expert talked about enforcing court decisions under martial law from the viewpoint of international jurisprudence.
"It takes a lot of creativity to ensure that the state functions under martial law, and we as lawyers must find a way to do it," said Damir Site.
In particular, he covered how Article 15 of the European Convention on Human Rights (Derogation from obligations during an emergency) is applied. Ukraine officially informed the leadership of the Council of Europe of invoking this Article under the established procedure in March 2022.
"The ECtHR will not have a problem with recognizing an emergency because it has already recognized such an emergency under circumstances that were much smaller in scale than the situation in Ukraine," he said.
At the same time, he said that even under martial law, the state should find such an approach to ensure enforcing Art. 6 of the European Convention on Human Rights (Right to a fair trial) and of Art. 1 of Protocol No. 1 (Protection of property). It must be proportionate, equal and meet the interests of both parties given the extraordinary circumstances at present. Observing these Articles is directly related to enforcing court decisions. Such an approach should in a certain way pay proper heed to such a situation.
"Law is not an isolated island in society. We cannot exist without the circumstances we are in," Damir Site emphasized.
Also, EU Project Pravo-Justice international expert spoke about the possibility of enforcing ECtHR judgments, in particular relating to the Russian Federation. According to him, such a scenario is currently impossible because as an international organization, the Council of Europe adheres to the principle of states' sovereignty in their activities, so this is outside its jurisdiction.
Andrii Avtorhov, a private enforcement officer spoke about the peculiarities of enforcing judgments under martial law from the viewpoint of national practices.
"It is indisputable that enforcing court decisions during martial law must have certain features. In these tough times, a fair balance must be struck between the interests of the debtor and that of the debt collector. If the state imposes any moratorium, someone must compensate the debt collector later: it must be either the debtor or the state. These issues need to be dealt with very prudently," Avtorhov said, noting that the debt collector may not necessarily be a financial institution, but it can also be an individual who may also need the funds due at this very time.
The private enforcement officer reminded that according to Art. 12-2 of the Law of Ukraine "On the Legal Regime of Martial Law", the powers of judges and justice sector institutions provided for by the Constitution during martial law cannot be restricted. According to Art. 129-1 of the Constitution of Ukraine, the state ensures the enforcement of a judgment in accordance with the procedure established by law.
Avtorhov noted that although there have been attempts at the legislative level to impose a complete moratorium on enforcing court decisions, in the end a certain compromise has been reached and now enforcement proceedings have certain features. For example, opening enforcement proceedings and taking measures to enforce decisions on the territory of temporarily occupied administrative and territorial units is prohibited. According to Avtorhov, the state has taken all necessary measures to take into account the interests of individuals.
However, Avtorhov states that not all the amendments adopted have been beneficial. In particular, according to him, as per the new regulations, during the period of martial law, private enforcement officers have virtually no independence.
"Any person, not only a party to enforcement proceedings, can file a submission to the Ministry of Justice on alleged violation of their rights and the Ministry of Justice can quash any decision of a private enforcement officer," he said.
Avtorhov pointed out that currently, private enforcement officers who ended up in the occupied territories or in the territories where there are ongoing hostilities do not have the opportunity to change their districts and cannot continue their operations. "This situation is absolutely unacceptable," he emphasized.
Moreover, Oleksii Koltok, Sayenko Kharenko counsel spoke on disputes related to property requisition, Serhii Zhukov, justice of the bankruptcy chamber of the Cassation Commercial Court within the Supreme Court of Ukraine delivered an intervention on bankruptcy under martial law gave speeches. Another final session speaker was Hanna Kolomiiets, justice of the Cassation Civil Court within the Supreme Court; she covered guardianship and adoption during the war.